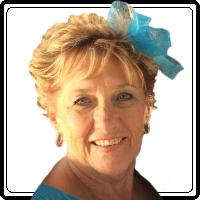 Sandra Elaine "Sandy" Swain
SWAIN: Sandra Elaine
Sandy Swain, 71, of Kirkfield, Ontario, died peacefully on Sunday, November 20, 2016, at Markham-Stouffville Hospital. Born May 6th, 1945 in Norwood, Ontario, she is predeceased by her parents, Ange and Earl Hamblin of Norwood, Ontario.
In life, Sandy imparted so many gifts and talents to all who knew and loved her. Renowned for her roaring laughter, love of games, creativity, and keen eye for design, there was never a dull nor colourless moment when Sandy was around. She simply filled up a room. 
Sandy kept a strong, curious, and open mind which she fostered from a love of reading, doing Sudoku puzzles, and her numerous worldly travels with "sister" Eleanor, family, friends, and her loving partner of 13 years, Mark.  
Sandy habitually ventured south as a 'snowbird' spending Canadian winters in the warm sun and sands of Fort Myers Florida where she tended to gleefully champion everything from mahjong, to dominos and shuffleboard.  
Never one to back down from a challenge, she embraced her creativity and competitive spirit, parlaying those strengths into a decor and design business she named Decor 8.  She was a mother, a teacher, a member of Sweet Adeline's Choir group and a constant, unyielding source of strength for so many. 
Survivors include her best friend and partner Mark Wiebe, daughters, Carrie (Craig) White of Stouffville, ON, Jody Swain (Ted) Tabisz of Whitby, ON, and Lisa Swain (Robin) Linden of Sechelt, BC. Deeply missed by granddaughters, Lindsay White, Maegan White, Nicole Lorenzen, and Ellen Swain. Step grandsons Nick and Sam Tabisz and the late Lukas Swain. Brother Richard Hamblin (Elva) of Plevna. Cousin Eleanor Andrews of Buckhorn. Cremation has taken place. A funeral service will be held at the Norwood United Church on Friday November 25, 2016 at 1:00 PM. A reception will follow in the fellowship hall of the church. Memorial donations may be made to Ovarian Cancer Canada, Markham-Stouffville Hospital or P.A.I.L. Network as expressions of sympathy and may be made by contacting THE HENDREN FUNERAL HOMES, NORWOOD CHAPEL, 36 Queen St., Norwood, ON, www.hendrenfuneralhome.com or by calling 705-639-5322.