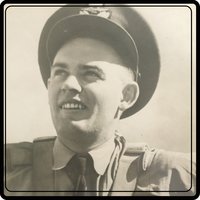 Phillip "Pete" Charles Kayser
KAYSER, Phillip Charles "Pete"
(W.W. II, R.C.A.F. Veteran)
Passed away peacefully at Ross Memorial Hospital on Sunday November 11, 2018. Pete was in his 97th year. Loving husband of Lois (nee. Hughes) of 74 full years. Beloved father of Graham John and Christopher (Jan). Cherished grandfather of Shawn and great-grandfather of Michael and Samantha. Will be missed by his brother-in-law John (Phyllis) and daughter-in-law Barbara.
Pete was an owner and operator of the W.J. Hughes "Corn Flower" Glass Company, a successful Canadian business started by glass cutter William John "Jack" Hughes. Pete, a Royal Canadian Air Force pilot, married Jack's daughter, Lois, in 1944. At the time, he was involved in the war efforts on the Pacific coast of Canada. After returning home, Pete joined the Hughes family business as a glass cutter and rose quickly into various leadership roles. His era would be tasked with ushering the company into a new age of advertising and the movement of manufacturing overseas. Among many innovations, Pete brought a new advertising vision to the company, helping to brand "Corn Flower" glass as the gift for brides-to-be.
A permanent gallery to honour the "Corn Flower" story and its directors, W.J. Hughes and Pete Kayser, was officially opened this past Saturday night at the Museum of Dufferin (MoD). W. J. Hughes was born in Dufferin County in 1881. The Museum of Dufferin holds the largest public collection of "Corn Flower" glass in the world. Pete Kayser gave countless hours of support and expertise to the MoD, personally authenticating each piece in its collection of "Corn Flower" glass, meeting collectors from all over the world at the Museum's annual "Corn Flower" Festival, and providing invaluable support to the MoD's curatorial and collections staff. Pete's knowledge, his professionalism in all things, and his kindness and generosity will be greatly missed.
A funeral service will take place at THE HENDREN FUNERAL HOMES, MONK CHAPEL, 6 Helen Street, Bobcaygeon on Tuesday November 20, 2018 at 12:00PM with visitation to commence one hour prior. Interment will take place at Verulam Cemetery, Bobcaygeon. In lieu of flowers, memorial donations may be made to Museum of Dufferin (MoD) "Corn Flower" Glass Fund, Princess Margaret Cancer Foundation and Kidney Foundation of Canada. Friends may send condolences or make a donation by contacting the funeral home at www.hendrenfuneralhome.com or by calling 705-738-3222.