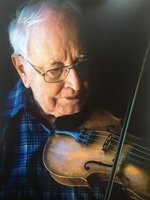 Woodrow Jones
JONES, Keith "Woodrow"
The music has ended and the dancing is over. Woody packed up his fiddle and headed home.
Keith "Woodrow" Jones died peacefully at Pinecrest Nursing Home, Bobcaygeon, in the early hours of May 25, 2019 after spending a day being surrounded by a loving, noisy, laughing family. Just what he liked best.
Woodrow Jones, husband of Velma Evelyn Goodhand (predeceased), and special friend of Vera Bidgood, leaves behind a large family and many good friends. Father of Lynda Lewis (Jim), Ken Jones (Nadine), Joanne Chausse (Bob) and Wendy Jones Barrieau (Todd Carr) he also leaves behind eight grandchildren - Sean Elliott (Cynthia), Kari Stevenson (Rob), Jeanette Howell (Greg), Adam Jones (Tosha), Amelia Fortier (Corey), Jessica Barrieau, Jane Barrieau (Shannon McGregor) and Jared Barrieau (Mimi Ganly) as well as six great grandchildren - Hanna, Jake, Griffen, Maeve, Evelyn, and Ellie.
Woodrow was the fifth child of Minnie Molyneaux Jones and Joseph Albert Jones, both predeceased. Brother of Myrtle Griffin (predeceased), Verna Junkin (predeceased), Earl Jones (predeceased at age 1 year), Douglas Jones, Joyce Campbell, Beulah Campbell, Maxwell Jones (predeceased) and Edward "Ted" Jones and Uncle of many nieces and nephews.
In his full, hard-working life he was Road Superintendent of Verulam Township for 31 years, Worshipful Grand Master of the Masonic Lodge (Fenelon Falls Spry Lodge) and the winner of many friends, fans and prizes for his fiddle playing.
Visitation will be held on Tuesday May 28, 2019 at THE HENDREN FUNERAL HOMES, MONK CHAPEL, 6 Helen Street, Bobcaygeon from 7:00 – 9:00PM. A Funeral Service will take place at Knox Presbyterian Church, Bobcaygeon on Wednesday May 29, 2019 at 1:00PM with visitation to commence one hour prior. Reception to follow in the Church Hall. Interment will take place at the Verulam Cemetery.
Memorial Donations may be made to Pinecrest Nursing Home, Bobcaygeon or the Alzheimer Society of Canada. Special thanks to the staff of Pinecrest for the wonderful care they gave our father, the man who was full of smiles. Friends may send condolences, make donations or arrange flowers by contacting the funeral home at www.hendrenfuneralhome.com or by calling 705-738-3222.