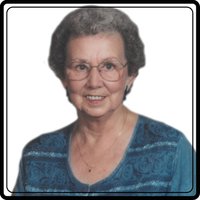 Muriel Gladys Flagler
FLAGLER, Muriel Gladys
Sadly we announce the passing on Wednesday October 23 of Muriel Flagler (nee Finley) in her 90th year. Predeceased by her husband George, son Dean, and sister Lorraine, missed by her daughter Jane and son Gord, and her brother Ralph. Fondly remembered by her nieces and nephews, grandchildren, great-grandchildren and extended family and friends.
Muriel was actively involved in Richmond Hill and Holland Landing, where she and George lived for many years. She was involved in the local Horticultural Societies and was a Master Gardener at Milne House in Toronto and a member of the Master Gardeners of Ontario Board. She had also been an active member of the Richmond Hill Kinette service club, culminating with being a director on the Kinsmen and Kinette National Board.
After George's passing, Muriel moved from Holland Landing back to her mother's house in Bobcaygeon, and she was proud of the renovations done to the little house. She volunteered at Knox Presbyterian Church, the Bobcaygeon Horticultural Society, New Beginnings and Meals on Wheels. Muriel was also the Director of District 4 of the Ontario Horticultural Association. She has won many awards for volunteer services.
Many thanks to Pinecrest Nursing Home for the care provided Muriel in her last months. Donations can be made to the Bobcaygeon Horticultural Society for a commemorative bench/tree in Muriel's name to be placed in the town of Bobcaygeon. Visitation will take place at THE HENDREN FUNERAL HOMES, MONK CHAPEL, 6 Helen Street, Bobcaygeon on Tuesday October 29, 2019 from 2:00 – 4:00PM and 6:00 – 8:00PM. Funeral Service will be held at THE HENDREN FUNERAL HOMES, MONK CHAPEL on Wednesday October 30, 2019 at 2:00PM with visitation to take place one hour prior. Interment will be at the Elgin Mills Cemetery in Richmond Hill at a later date. Friends may send condolences, make donations or order flowers by contacting the funeral homes at www.hendrenfuneralhome.com or by calling 705-738-3222.