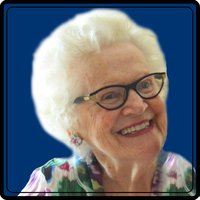 Irene Jessie Borgal
Passed away peacefully at Roberta Place Long Term Care, Barrie on Tuesday, November 24, 2020 at the age of 95. Irene was born in Grand Falls, Newfoundland in 1925. She left Newfoundland and went with her best friend to Toronto, Ontario where she met and married Guy. They bought their first house in Scarborough and later bought a house in Victoria Place, Bobcaygeon. After Guy passed away, Irene travelled back to Newfoundland to visit with her brothers and sisters. She then returned and settled at the Kingsmere Retirement Home for 7 years before moving to Roberta Place in Barrie.
Irene was a kind and loving woman; she loved to sing in church and with Guy, who sang and played various instruments with the Bobcaygeon Old Timers. From a little girl, she always went to the United Church whenever she could until the last few years and was very happy to see her four Great Grandchildren baptised. She helped with church dinners and when she was in Newfoundland on September 11th, 2001, 6,700 people had to land in 38 planes and Irene helped make sandwiches, etc. for them. She enjoyed boating and fishing for Rainbow Trout at their Cottage in Harcourt Park and loved going to the cabins on the Ocean in Newfoundland, where she would spend time digging for Clams, walking the Beach, and playing cards with family and friends. She and Guy went many times to Florida with family and friends and had great times. She loved exercise class, fashion, old movies, and Dancing with The Stars. Above all, she loved playing with her children and grandchildren!
Irene is reunited with her late husband, Guy Borgal (1997). Loving Mother of Randy Borgal (Cynthia) and Gail Crust (John). Cherished Grandma of Pamela (Eric), David (Tanja), and Trevor. Proud Great Grandma of Warren, Lillian, Elliott, and Annabelle. She is predeceased by her brothers, Donald, Malcolm, Leonard, and sisters, Beryl and Elizabeth. Irene will be forever missed and remembered by her brother, Richard, sisters Vera and Barbara, all her nieces and nephews, and many friends. A private funeral service will be held at THE HENDREN FUNERAL HOMES, MONK CHAPEL, 6 Helen Street, Bobcaygeon, Ontario on Friday, November 27, 2020 at 12:30 PM. Interment to follow at Verulam Cemetery, Bobcaygeon. If desired, memorial donations may be made to The Canadian Cancer Society or The Alzheimer Society of Ontario. Condolences may be shared and donations made by contacting the funeral home at www.hendrenfuneralhome.com or by calling 705.738.3222.