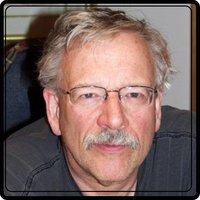 James McEvoy Rielle Thomson
JAMES MCEVOY RIELLE THOMSON died Sunday, December 13th at his home in North Kawartha Ontario at the age of 83. He passed away very suddenly and without pain when his heart simply, quietly, gave out.
Jim is survived by his wife Molly Moldovan, his children Jill Thomson, Peter Thomson (Janet Stewart), and Sylvia Thomson (Joe Goyette); his grandchildren Jane Thomson and Alex Thomson, and ex-wife Mary Ellen Baker. He is also survived by his loving dogs Roscoe and Kanya.
Jim was born in Town of Mount Royal, Quebec. He was the only son of Joseph Rielle Thomson and Dorothy Thomson, nee McEvoy. He attended high school at Lower Canada College. As a young man Jim was a talented student, winning the math prize in his senior year. He was active in football, sustaining several enduring injuries, and in curling, where he won a Montreal junior championship.
Jim was an avid, lifelong stamp collector. Secretary of the Kawartha Stamp Club, he was described as "a diligent scribe who penned witty notes to the various emails that the club sent out. He was a very knowledgeable engineer, and a passionate collector who provided members with detailed information whenever asked."
Jim attended Queen's university to study civil engineering where he developed strong lifelong friendships and an enduring love of engineering. After university he returned to Montreal to work in the construction industry. Jim had an unceasing passion for his work in construction, continuing his work in the industry right up to the day he died. Some of the more notable projects he was associated with are: Habitat 1967 Montreal; La Belle Creole 1967-69 Ste. Martin; The Olympic Stadium 1976, Montreal.
One of Jim's accomplishments was being a father. He loved to take his kids on "expeditions," making an adventure of going to get food at the Atwater market or parts from the bike shop, or tools at Pascal. Later in life, Jim's expeditions into the local village were very popular with grandchildren Jane and Alex.
Jim's biggest gift was his enormous cheerful personality and a passion for life that included everyone around him. He was, in equal measure, respected and loved by those who entered his orbit through his various pastimes and work experiences. The friendships he made remained strong and enduring.
Jim loved spending time with his family in the outdoors, biking, hiking, and camping. He was passionate about good food, wine and scotch; he loved sharing a meal and a glass of whisky with friends and family and loved all things dog.
Arrangements entrusted to THE HENDREN FUNERAL HOMES, LAKEFIELD CHAPEL. A celebration of Jim's life will be held when circumstances permit. In lieu of flowers, a donation to causes which Jim cared about would be welcomed:
Community Care in Apsley, Apsley Food Bank, or Standard Poodles in Need (SPIN).
Donations and/or condolences can be made by visiting www.hendrenfuneralhome.com or by calling 705.652.3355.