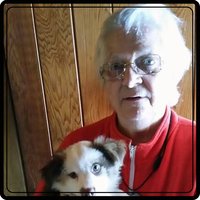 Elizabeth Anne Wright
It is with great sadness that we announce the passing of Elizabeth Anne Wright (Jennings) treasured Grand Mother, Mother, Wife, daughter, sister, and friend. Bettie was born in Toronto , Ontario the youngest daughter of Arthur and Violet Jennings. She grew up in the Islington area of Toronto in what was then rural fields. She was driving produce trucks before she was 15 and learned to shoot and hunt with her father, who was a WW1 veteran that fought at the battle of Vimy Ridge. She was a true tomboy who preferred to be out hunting rabbits with their pet ferrets instead of being inside and learning to cook.
Attending high school in post WW2 Toronto she met a tall dark haired fast talker and they married in August of 1950. His sales job took them to locations across Canada, including Toronto, Burlington, Ottawa, Orillia, Markham, Guelph, as well as out west in Regina, Calgary and Edmonton. Bettie and Milts shared passion was car racing. In the late 50's they founded the Twin Lakes Motor Club in Orillia and organized as well as participated in car rally's, closed track racing, and even ice racing on local lakes.
In the early days Bettie was often seen behind the wheel of her Austin Healy roadster and outran the local police on at least one occasion (it was okay….they knew each other). Later she also had a 1967 Mustang GT 390 fastback for getting groceries.
Her independent spirit and tenacity served her well while raising two sons, and building a pan abode log home on 18 acres of bush outside Buckhorn Ontario. Even after the death of her high school sweetheart in 2000 she refused to leave their forever home in the woods. She sadly also had to experience the sudden and untimely loss of her eldest son Milton in 2017.
Bettie will be sadly missed and forever remembered by her son Jim (Liz), daughter in law Jean, brother Stan, grandchildren Stephen, Derrick, Caitlin and Brianna (Ryan). And there are two fur babies (Skye and Griffin) missing their Saturday chew sticks from Grandma.
As per her wishes there will be no formal funeral.