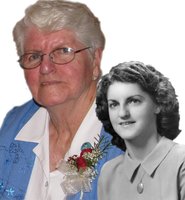 Joyce Opal Metcalfe
METCALFE, Joyce Opal.
On January 17, 2021, Mom quietly slipped free of her earthly bonds back into the warm embrace of the love of her life, Leonard M Metcalfe (d. September 21, 2015).
Mom was born in Hoards Station, Ontario, on May 23, 1929, to Walter and Nettie Thomas. Mom frequently told us tales of her fond childhood memories of living in Birdsalls Station with her siblings Alice (d), Murray (d), Ruth (d), Lavern of Bridgenorth, Jean Adams (Don) of Peterborough, Marilyn (d) and Lynda (d).
On September 17, 1949, Mom married the man of her dreams. Dad and Mom remained truly devoted to each other for 66 years. Together, they raised their children Janice (George Millett) of Norwood, Ted (Kerena Wright) of Melbourne, Australia, Mary (Jim Stevenson) of Hastings, Eadie (John Steele) of Norwood and Laura of Baden. Mom's childhood wish to become a grandmother came true with the arrival of her nine beautiful grandchildren, George (Denise Wilkins) Millett, Bob (Christine) Millett, Heather Millett, Sarah Metcalfe, Jack Metcalfe, Gord (Sarah Repath) Stevenson, Roy (Nancy) Stevenson, Ian Steele and Chelsea Steele. She was a wonderful and loving grandmother. Mom was simply 'the best' in their eyes. Her 'grandmother wish' was blessed again with the arrival of her great grandchildren Kaitlyn, Andrew, Alexa, Dillon, Noah, Ethan, Ian, Emily, Thomas, Cole and Maddy. What a wonderful wish to have come true again. Mom always delighted in spoiling her grandchildren and great-grandchildren and they created many smiles for her.
Dad and Mom worked side by side all their lives on their dairy farm south of Norwood as a stellar example of love, partnership, hard work, dedication to family and community. They retired to their 'dream home' on the 10th Line until failing health necessitated a move to Maple View Retirement Residence. Soon after the loss of her true love, Mom moved to Pleasant Meadow Manor for the next 2.5 years of her life.
Mom was a loving and devoted wife, a wonderful and caring mother, a fantastic grandmother and a lovely great-grandmother. She was incredibly proud of her family and we knew we were the center of her universe. She always found time to welcome and care for family, friends and neighbours - frequently in her kitchen preparing meals for everyone. As well as caring for her family and working with Dad on the farm, she found time to work in her church, with the Norwood Fair Board and the Donegal school dances where she and Dad loved to meet friends and dance the night away. She and Dad traveled during their retirement to Australia, the east coast, the west coast, the Yukon and Florida. As a gracious hostess, her door was always open to visitors. Mom's faith in her Lord was deep and her guiding beacon. She sang with the Salvation Army Songsters and the Trinity United Church choir in Hastings for many years.
Whether she was known as Joyce, daughter, daughter-in-law, sister, sister-in-law, Mom, Granny, Great Granny, friend or neighbour, Mom was deeply loved and will be dearly missed by so many. Her love will always live on in our hearts. Mom lived a happy and full life. Rest in peace now. 'Thanks a million' for everything, Mom.
Joyce's family would like to express our heart-felt appreciation to all of the doctors, nurses and staff at PMM as well as at Maple View Retirement Home, for their wonderful, compassionate and loving care of Mom. Their dedication to Moms care was incredible and truly appreciated. We are so grateful for everything you did for Mom.
In memory of Joyce and in lieu of flowers, donations to the Alzheimer's Society, Pleasant Meadow Manor or the charity of your choice would be appreciated. Services for Joyce will be planned at a later date when it is safe to do so. Arrangements have been entrusted to THE HENDREN FUNERAL HOMES, NORWOOD CHAPEL, 36 Queen Street, Norwood. Memorial donations and condolences may be arranged at www.hendrenfuneralhome.com or by calling 705-639-5322.