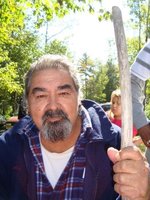 Henry Clarence "Bucky" Taylor
PLEASE CLICK HERE TO REGISTER TO ATTEND THE VISITATION FOR BUCKY.
TAYLOR: Henry Clarence "Bucky" Jr. (Otter clan)

Bucky passed away at his home in Curve Lake First Nation on January 27, 2021. He was in his 77th year.

Bucky lived life to the fullest. He was a happy-go-lucky guy with a heart of gold who made friends with everyone he met. He loved his family and his many friends beyond measure.

Over the years, Bucky has been a fisherman, ball player, and golfer. He liked to watch baseball and hockey. He was a story-teller, a language-keeper who was fluent in Anishinaabemowin, and a source of community and family history.

He will be greatly missed by his brother Merritt (Mary), son Dean, and his many nieces, nephews, cousins, ex-girlfriends and friends.

He rejoins many of his loved ones, who will be so happy to be teased by him once again, including his Mom Olive, Dad Henry, his brothers Leo, Billy and Winston and his sisters Agnes, Barbara and Liza.

Due to COVID-19, the big celebration of his life that he wanted will have to wait.

A visitation will be held by appointment at CURVE LAKE CHURCH on Sunday January 31, 2021 from 2:00 – 6:00 PM. Due to COVID restrictions, visitation is limited to a specific number of visitors at a time. ONLY THOSE WITH AN APPOINTMENT WILL BE ALLOWED IN. TO SECURE A DESIGNATED TIME TO PAY YOUR RESPECTS, PLEASE BOOK ONLINE at
www.hendrenfuneralhome.com. All visitors must remain in their cars in the church parking lot and only come to the door of the church at their designated time. Everyone must wear a mask. Arrangements entrusted to HENDREN FUNERAL HOMES, LAKEFIELD CHAPEL. If you need assistance in booking a visitation time please contact the funeral home at www.hendrenfuneralhome.com or 705-652-3355.

A private interment will be held at Curve Lake Cemetery.

To remember Bucky, please shed some tears, turn your music up, call your chums, hug your loved ones close, tell some jokes, and maybe have a beer or two in Bucky's honour.

Gdizaagigoo Uncle Buck/Big Shooter. Ah g'day!