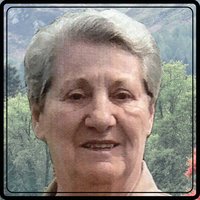 Isabel Luella Mae Biglin-Price
Passed away at Case Manor Care Community, Bobcaygeon on Monday, March 22, 2021, at the age of 85. Predeceased by her parents, Byron and Hazel Hyland. Beloved wife of the late Zolton Biglin (1998) and Glenn Price (2013). Sister of Jean Carr (the late Gary), the late Ross Hyland (Eileen), Lorraine Creed (Del), Don Hyland (Jan), the late Glen Hyland (Dianne), and the late Helen Hanshaw (Carl). Cherished Mother of Lisa and David (Paula). Proud Grandmother of Robert and loving Aunt of many. Stepmother of Grant and Shirley Price, James and Joanne Price, Connie and Kent Young, and Jim and Robin Rusk.
Isabel took great pride in her family and had many long friendships throughout her life. The family would like to thank the wonderful staff of Case Manor, Bobcaygeon, whose goal was always to allow Isabel her dignity. Their kindness and compassion throughout her stay there were wonderful.
Funeral arrangements entrusted to THE HENDREN FUNERAL HOMES, MONK CHAPEL, 6 Helen Street, Bobcaygeon. A private interment will be held at Mount Lawn Cemetery, Whitby.
In lieu of flowers, Isabel would wish you to donate to support a local food bank close to your home. She would never want to see anyone go hungry.
Memorial donations may be made and condolences shared by visiting www.hendrenfuneralhome.com or by calling 705.738.3222.