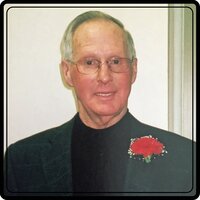 Don Patterson
**PLEASE NOTE CHANGE OF FUNERAL DATE**
Passed away peacefully at his residence in Kawartha Lakes Retirement Residences in Bobcaygeon, Ontario on Wednesday, January 12, 2022 at the age of 91. Don will be forever loved and missed by his daughter, Carolyn and son-in-law Drew Porter. Proud grandfather of Lyndsay Porter-Hood (the late Paul) and Kimberley Renne (Jamie) and great grandfather of Kypton and Kaleb Renne.
Don's roots remained in Bobcaygeon through his full circle of life. He led a life based on hard work at GM while maintaining three properties, dedication to his family and friends, generosity and service to neighbours in Oshawa and Bobcaygeon, his church and community. His adoration for his late wife Joyce was undeniable, they were inseparable and he is now at peace with his soulmate.
Don leaves behind his sisters, Linda Caskey, Rozanne and Sheila Tully, brothers-in-law, Bill Nicholson and Ed Walker, sister-in-law Glenda Patterson. Predeceased by his wife Joyce (Hamilton) on July 28, 2021), his parents, Charles and Stella (Wray) Patterson, his sisters, Ruth Nicholson and Mary Jean Coulter and brothers, Gerald, Ross, Eric, Claude, Jeffrey and Kenneth Patterson. He will be fondly remembered by his many nieces, nephews, and friends.
Arrangements entrusted to THE HENDREN FUNERAL HOMES – MONK CHAPEL, Bobcaygeon, Ontario. A funeral service will be held at Christ Church, 43 Sherwood Street, Bobcaygeon, Ontario on Friday April 29, 2022 at 1:00 PM with interment to follow at Verulam Cemetery, Bobcaygeon. A reception will be held at Christ Church following the interment. Everyone must wear a face covering. In lieu of flowers, donations may be made to Christ Church, Bobcaygeon. Friends and family may share condolences and make donations by visiting www.hendrenfuneralhome.com or by calling 705.738.3222.