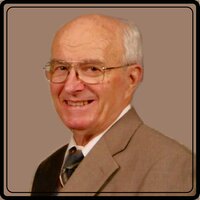 Blake Matthews
PLEASE CLICK HERE TO WATCH THE FUNERAL SERVICE FOR BLAKE MATTHEWS
Blake was born at Young's Point on September 4, 1928. He passed away at Peterborough Regional Health Centre, on Friday January 14, 2022. Blake, of Lakefield, in his 94th year. Loving husband of the late, Doreen Matthews (née Martin) and Donna Matthews (née Weber). Loving father of Philip Matthews (Barbara), Roland Matthews (Janice), Daniel Matthews (Jan), Kathleen Herr (Robert) and Theodore Matthews (Janet). Dear grandfather of 11 grandchildren and 13 great grandchildren. Blake is survived by his sister Meralyn Chappelle (d. Tom) and many nieces and nephews. Predeceased by his son Richard Matthews and his brother Donald Matthews (d. Leona).
Blake grew up on a farm and talked about farming a lot in the last few years. Since he has been living in Lakefield the last two years, he talked about Lakefield as it was when he was a child – the dirt streets sloped so the horse manure could run off to the side in the rain. He could tell you what used to be in each building and who owned it and ran it. He was able to return to the church he went to as a young man. He even went to the same barber shop his Dad took him as a young boy.
Blake and Doreen (Martin) were married in 1947. He delivered milk door to door, drove truck and delivered groceries for York Trading; and he did some preaching around town. In the late 1950's the family with Phil, Rick, Roly, Dan and Kathy went to Prince Edward Island where he was the Pastor at a teen camp for two years. They then went to Nova Scotia for 4 years where he was a Pastor at a church in Truro and where Ted was born. The then family of 8 moved to Arkona, Ontario for 2 years to Pastor at a church there. They all moved, in 1966, to just outside Norwood, Ontario. From there he preached; owned a tractor and snowmobile business in Campbellford and finally lived in Toronto during the week preaching on the streets to young people and working in various places including a vacuum cleaner company. In 1972, Rick died in an automobile accident.
About 1986, he moved to Huntington Beach, California where he worked for Wycliffe Bible translators and where he met his second wife, Donna (Weber). Donna and he lived in Huntington Beach, Pennsylvania and Albany New York before they bought a house in Jasper Arkansas, in the Ozark Mountains and lived and fellowshipped for over 30 years. Down there he worked in photography and woodworking. In 2019, after Donna's passing he moved back to his roots in Lakefield, Ontario.
He was happy to live in Lakefield although failing in his last year. He passed away peacefully at PRHC on January 14, 2022.
His lord said to him "well done, good and faithful servant; you have been faithful over a few things, I will make you ruler over many things. Enter into the joy of your lord." (Matthew 25:23)
A private funeral service will be held at THE HENDREN FUNERAL HOMES LAKEFIELD CHAPEL, 66 Queen Street, on Thursday January 20, 2022 at 1:30PM. Guests are invited to watch the funeral service by visiting the Hendren Funeral Home website and clicking on the link available on the Blake's memorial page. As expressions of sympathy, memorial donations may be made to Hope Valley Day Camp, by visiting www.hendrenfuneralhome.com or by calling 705 652-3355.