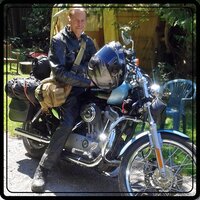 Rex Douglas Andrus
At Hospice Peterborough on January 24, 2022, Rex Andrus of Lakefield passed away in his 62nd year with his family by his side.
Rex was born in Peterborough and raised in Bailieboro... He had many interesting jobs until he found a career that he loved doing when he became a paramedic. He was a kind and caring paramedic. He treated his patients as he would want his family to be treated. Rex loved the outdoors. Hunting, camping, fishing or just looking at the stars. He taught his children to love nature. In the last year of his life he enjoyed riding his motorcycle and packing it up to go camping.
Rex is survived by his wife Audrey Andrus, his daughter Sarah, and son Jake (Mounica), his sister Gina Guest (Doug), brother in law Don McLeod and sisters in law Susan Head (Jordan), Liz Stevens (Rick), Patricia Campeau (Rick), Cathy McLeod and Maggie McLeod as well as many nieces and nephews.
He is predeceased by his parents Pip and Russ Andrus and his four legged best friend Bosley.
As per Rex's request, no formal funeral service is to be held. A celebration of life will be held in the spring. Donations to Hospice Peterborough would be appreciated. Donations and condolences may be made by contacting THE HENDREN FUNERAL HOMES, 66 Queen St, Lakefield, online at www.hendrenfuneralhome.com or by calling 705-652-3355.
Gone from his home - never our hearts.