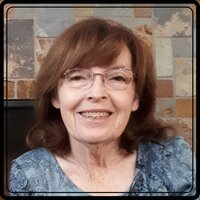 Lynda Marion Saxby
Lynda Marion Saxby (née Bullock) of Lakefield passed away 27th January 2022 with family by her side at Peterborough Regional Health Centre. Born 11th November 1946 in Toronto, Canada to the late Norman and Olive Bullock, Lynda began her career as a teacher. She studied at Sir Sandford Fleming College, and was later appointed to its Board of Governors. Lynda worked at Alfa-Laval and then started a software consulting business with her first husband, Stanley Smith. Together they raised their two daughters in Peterborough. She worked at Trent University, where she also studied English, and at the Schulich School of Business. She retired from Peterborough Public Health.
Married to her soulmate, Alan Saxby, they were together for three decades. She is survived by her daughters, Jennifer Sousa (Nelson) and Nadine Robinson (Mark) and her step-children Laura Wright (and the late Dan) and Stephen Saxby. A loving grandmother to Olivia Sousa, William and Lauren Robinson, Lily and Peter Wright, and Trinity Saxby. A wonderful sister to Susan Weisman (Gary), Glenn Bullock (Mona), and Brad Bullock, and sister-in-law to Stephanie Robertson (and the late Don). Adored aunt of Matthew and Chris Weisman, Mark and Scott Bullock, Jonathan and Nicole Bullock, and Jason and Ben Maize. Life-long friend to many, including Brenda Kennedy.
Lynda enjoyed living in Lakefield with Alan in their beautiful home. She was an avid walker and gardener. She and her husband loved music and travelling (Nova Scotia, Maine, Vermont, the Rockies, the Caribbean and England). She had a big, kind heart, always thinking of others. She had a beautiful smile and a great sense of humour. Lynda was artistic and known for her delicious pies. A devoted and loving wife, mother and especially awesome grandmother. She loved her family and friends dearly and there was nothing she would not do for them.
Friends and family may send condolences and share memories at www.hendrenfuneralhome.com. Donations may be made to the Peterborough Regional Health Centre - Palliative Care Unit who treated Lynda with dignity and compassion in her final days, or to the Canadian Cancer Society. A celebration of life shall take place in summer.