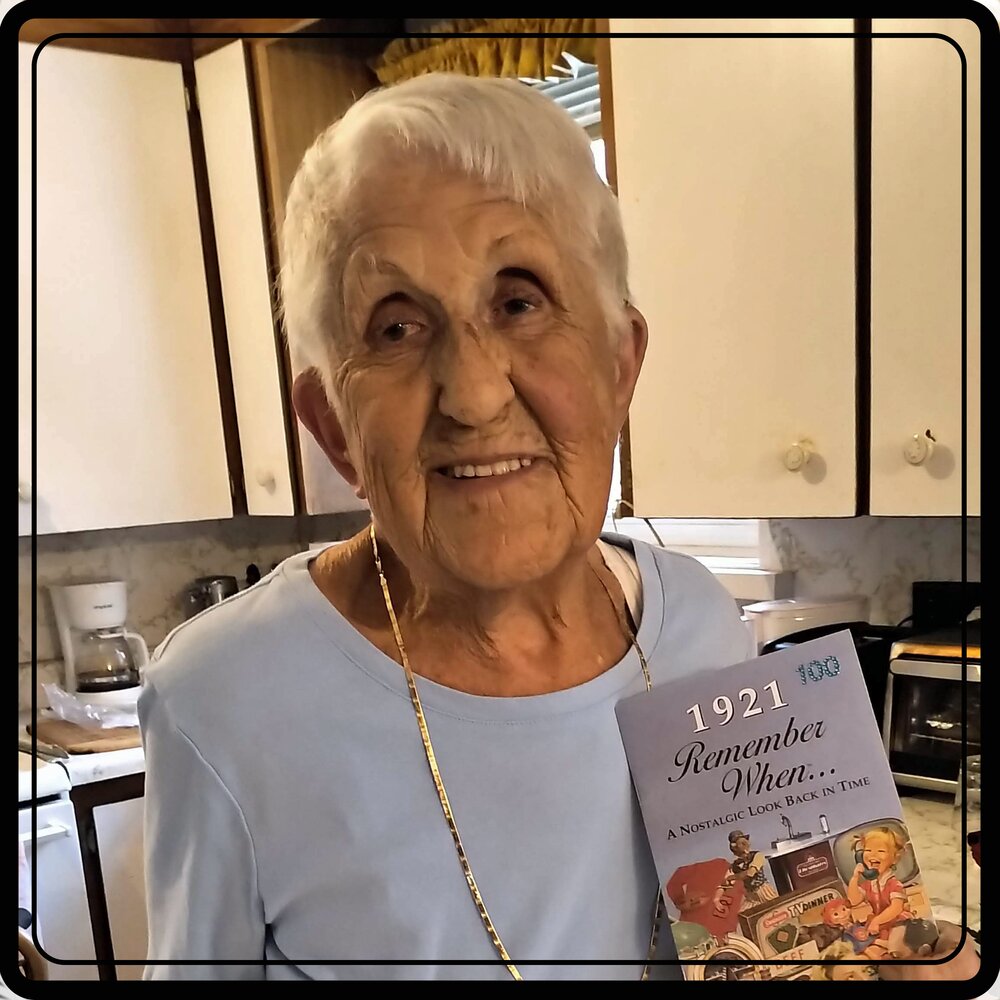 Obituary of Leah Marie Turner
Passed away peacefully on Monday, June 20, 2022 at Campbellford Memorial Hospital, Campbellford, ON, in her 101st year. Leah celebrated her 100th Birthday on Wednesday December 29, 2021, with her daughter (Lynda) and son-in-law (Rodger) in a small party atmosphere due to Covid, she did have a few special visitors that day (while practising safety protocols) who remain close to her heart.
Leah had a full life, a hard-working life and made every moment count, she was not one to sit idle, always busy. Her life began in Shippagan, New Brunswick, a small fishing village where she was born the fourth in line to 12 siblings. She was born deaf in one ear and minimal hearing in the other ear, therefore going to school was difficult for her and she left before finishing her schooling to start work to help her mom around the homestead. Her father was a fisherman during the seasonal months and logging in the winter to provide for his family.
She began working for a prominent family in the area, the Blakley's, doing house-keeping and continued in that profession, working for the Governor of New Brunswick, and the family of K.C. Irving (the Corp. of Irving Oil) in the capacity of head cook and kitchen manager. During these years her sister Leona joined her and they were together managing the daily routines of these prominent families.
In the mid-fifties, Leah was able to move to Toronto to join her oldest Sister, Adonia (Toni), this was a good move, as Toni was able to find an ear specialist and Leah had a much needed operation (Mastoid-dectomy) which enabled her to hear – this enabled her to obtain work in a typewriter factory, then onto a book-keeping job in the Fashion District of Spadina Rd, where she met a cutter, Bud Higley – little did Leah know that Bud and Hilda Higley would become her future cottage neighbor's on lovely Lake Kasshabog, Havelock, ON.
A blind date soon fixed her up with Leslie (Les) Turner, a single fella who worked as a welder at York Steel in Toronto, ON. It was a good match evidently as they married in 1960 and had one daughter, Lynda Marie Edith Turner on September 12, 1961. Les was busy building his dream cottage on Lake Kasshabog when they met, the main cottage, nick-named "Lord Nelson's Paradise", was 50% complete and he was involved in completion of the 2nd cottage next door, where it was a apply named "Lady Nelson's Paradise". Throughout the sixties this was their summer place.
In March 1970, Les suffered a massive heart attack and passed away suddenly, a major blow to everyone he knew and loved. After being a house wife for 10 years, Leah struck out on her own to make ends work to bring up daughter, Lynda and to do everything possible to hold onto Les' legacy, "Lord Nelson's Paradise". She returned to what she could do best, house-keeping, and found work with a wonderful couple and family in the Bridle Path district of Toronto, where she became an extended "family" member and very focused on caring for the daily management of their household, it was a mutual professional and friendly relationship that lasted for 20 years, which also enabled Leah make it on her own. Leah has always been very grateful for her relationship with the Cader's.
As a widow, there were many years spent visiting her family on the East Coast, summers spent in Shippagan and Saint John, her siblings and Nieces and Nephews were of great support while adjusting to widowed life, many clam-digging, chowder dinners and lobster boils were enjoyed. Prior to Les passing, "Lady Nelson's" cottage had been sold to a friend and co-worker of Les, Fred Sonntag and wife Siegy. This fantastic and vibrant couple remained true family friends along with their daughter Sandra (a little sister to Lynda) and were very much a part of helping Leah hold onto "Lord Nelson's Paradise" throughout the years. There is much history for Leah and the Lake Kasshabog Family, over 60 years of memories on the lake and as such Leah will be truly missed by her Lake Family.
A life truly lived and loved!! Rest in Peace Mom, in the final joining of "Lady Nelson with Lord Nelson".
Beloved wife of the late Arthur Leslie (Les) Turner. Predeceased by her parents, Ida and Amedee Paquet of Shippagan, NB. Leah will be forever remembered, loved and deeply missed by her daughter, Lynda Bonneau, and son-in-law, Rodger Bonneau. Loving Sister to: Adonia (Toni) (predeceased), Ernestine (predeceased), Lionel (predeceased), Leontine (predeceased), Leona (predeceased), Gerald (predeceased), Roger (predeceased), survived by: Norman, Therese, Yolande, and Roger. Loving Aunt to many Nieces and Nephews who will truly miss her. A huge shout out to Dr. Kelly Parks and the Nursing staff of the Palliative Care unit at Campbellford Memorial Hospital for making Leah's last resting place truly peaceful.
Cremation has taken place, and there is no visitation or service as per Leah's request. A Celebration of Life will be planned. In lieu of flowers, donations to the Canadian Hearing Society or Campbellford Memorial Hospital, would be greatly appreciated.