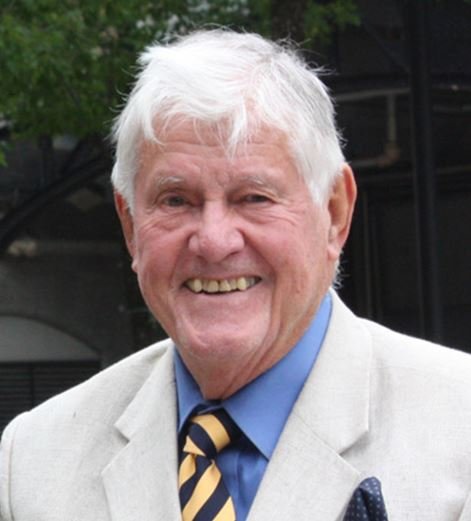 Obituary of Keith Burgess McKerracher
PLEASE CLICK HERE TO LISTEN TO MEMORIAL SERVICE FOR KEITH
TO MAKE A DONATION TO THE HELEN MCKERRACHER MEMORIAL SCHOLARSHIP FUND PLEASE CLICK HERE
McKerracher: Keith Burgess
The McKerracher family lost one of its sparkplugs. Keith McKerracher passed away peacefully on December 31, 2020 at the age of 91. He has gone to join Helen, his teenage sweetheart and beloved wife of 66 years, whom he adored and was in awe of from the moment they met.
Keith is survived by daughters Nancy (John Casserly) of Warsaw, ON; Dr. Lisa (Pierre Caouette) of Boston, MA; Sandi (Andrew Taylor) of Charlottesville, VA; and Krista (Michael McCabe) of Ft. Myers, FL. He was very proud of and loved by his seven grandchildren, Taya, Tim and Hope Casserly, Julian and Emily Tsang, and Matthew and Cameron Taylor. He leaves three step-grandchildren Marie-Pier Berman, Alexandra and Christiane McCabe and two great grandchildren, Thea and Cerys Taylor.
His father John served in WWI and met Helen Samuel, his English bride during one of three times spent in Epsom Hospital recovering from wounds. His three brothers Jack, Neil, and Alvin, and sister Jean predeceased Keith.
Keith was born in Saskatchewan in April 1929 and claimed that he wasn't born in a log cabin – the family moved into one when they could afford it. After losing the farm in the Great Depression, his father cleared land in northern Saskatchewan to create a new homestead. In 1941 the family moved to southern Ontario, and Keith attended high school in Ridgetown, where he met Helen.
After working his way through Western's Ivey Business School, he joined GE in Toronto learning the marketing talents that carried him to Canadian Breweries, leading marketing for Black Label Beer. In 1967 he moved to Canada Dry as the General Manager of the Cleveland, Ohio operation. In 1972 a group of Canadian business leaders led by former Prime Minister Lester Pearson recruited him to start ParticipACTION, an organization to inspire physical fitness in Canada. This endeavor took the family to Montreal. ParticipACTION became a successful movement that continues today. In 1978 he became President of the Institute of Canadian Advertising in Toronto, which he led until 1992, followed by two years leading the Canadian Egg Marketing Agency in Ottawa. He retired in 1995 but always energetic, Keith spent 10 years as a consultant for CESO, the Canadian Executive Service Overseas, helping small companies in eight developing countries to succeed and grow. Through CESO they made many enduring friendships overseas.
Keith had many hobbies. He handcrafted two boats and built the family cottage "Match Point" on Stoney Lake, and later, their retirement home nearby. An accomplished pianist and church organist, he played at St Peter's on the Rock on Stoney Lake for many years. He also learned to play classical guitar in his retirement. He was an avid pilot, flying all over North America with Helen. He served as a volunteer on a variety of Boards, including ROM, and the Canadian Music Centre.
Keith cherished his close friends, always in touch with them even when they were on the other side of the world, and never tired of their company.
Noted for his amazing memory, he could cite facts from things he read years ago. This quote from George Bernard Shaw sums up Keith: "I want to be thoroughly used up when I die, for the harder I work, the more I live. I rejoice in life for its own sake. Life is no 'brief candle' to me. It is sort of a splendid torch which I have a hold of for the moment, and I want to make it burn as brightly as possible before handing it over to future generations". Keith lived independently in his own apartment at Princess Gardens in Peterborough until shortly before he died.
A memorial zoom service will be held on Friday January 15, 2021 at 12:00 PM. To join in the service, please visit www.hendrenfuneralhome.com as click link provided on Keith's Memorial Page. In lieu of flowers, donations in Keith's memory can be made to the Helen McKerracher Memorial Scholarship Fund, a scholarship to encourage students from Ridgetown High School attend University. Friends and relatives may make donations by contacting THE HENDREN FUNERAL HOMES, LAKEFIELD CHAPEL, 66 Queen Street, Lakefield at www.hendrenfuneralhome.com or by calling 705-652-3355.
To send flowers to the family or plant a tree in memory of Keith McKerracher, please visit Tribute Store