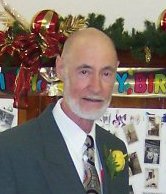 Obituary of Harry Kavanagh
Employee of Outboard Marine for 36 years, Harry Kavanagh of Norwood, in his 92nd year, passed away Peacefully at the Campbellford Hospital on Monday, August 2nd, 2021, surrounded by family.
Only child of Lila and William Kavanagh, beloved husband of Micheline "Mimi" Samson and the late Beulah Chase (d. 1995). Loving father of Joyce Prentice (Bill) of Kanata, Ruth Parent (Tim) of Toronto, Bill (Janice) of Port Perry, Paul (Jinky) of Havelock and step father of Gary Klatt (Emmy) of Minden and Cynthia Huskilson (Bryce) of Peterborough.
Grandpa is missed by 8 grandchildren and 6 great-grandchildren. Harry is also remembered by numerous cousins, nieces, and nephews including the Oakley, Chase and Samson connections.
Harry has been involved in the Christian Community for many years. He was a Sunday School teacher, a facilitator for GriefShare program, a volunteer at Warkworth Institution for 10 years, and an elder in our Church. He was an avid motorcyclist who played an active part in "The Revelation Riders". "MY" Harry, as he was referred to by his wife Mimi, was a man of Great Faith who lived his life for Him. A great role model for many…
Due to restrictions, there will be a private funeral service and interment at Asphodel-Norwood Cemetery.
As expressions of sympathy, memorial donations may be made to Foreign Mission Society/ Société Missions Étrangères or to a Charity of your choice. Donations and condolences may be made by contacting THE HENDREN FUNERAL HOMES, 36 Queen St, Norwood online at www.hendrenfuneralhome.com or by calling 705-639-5322.
"ETERNALLY FREE"
-------------
The long-awaited plans for the Celebration of Harry Kavanagh's Life are finally here. You are invited to join the family at the Asphodel Community Centre, 88 Alma Street in Norwood on Saturday, August 28th 2021.
We will be enjoying meeting outside, where the weather should be quite decent. Look for the shelter, surrounded by lots of green grass- splash pad- playground- skateboard park. A maximum of 100 people at one time will be allowed.
We ask you to please bring your own lawn chairs (if you plan to stay for a bit), bring your own lunch (because of COVID) and especially bring your fond memories of Harry to share with others. Condolences can be expressed and joy is permitted!
We will have the space reserved for us from 11 am to 4 pm- so there will be plenty of time to visit. Washrooms are on site.
You will be asked to give your name & phone number for follow-up in case medical issues arise, as well as for answering the famous COVID questions.
You will also have to respect the social distancing of 6 feet- if unable to do so, please wear a mask. The staff will be making sure that rules are followed.
These are different times… and very hard decisions had to be made accordingly…
My wish is that EVERYONE has a great old time…THAT is what Harry would want!
Let's show our love for Harry by coming together peacefully
This IS Harry's Celebration! Let's make him proud…
Celebration of Life
11:00 am - 4:00 pm
Saturday, August 28, 2021
Asphodel Community Centre
88 Alma Street
Norwood, Ontario, Canada