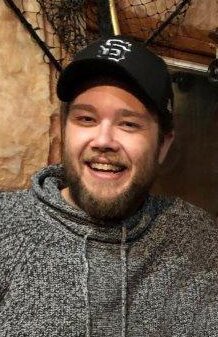 Obituary of Kyle Tyler Kidd
PLEASE CLICK HERE TO REGISTER TO ATTEND THE VISITATION FOR KYLE
PLEASE CLICK HERE TO WATCH THE FUNERAL SERVICE FOR KYLE
KIDD: Kyle Tyler
November 14, 1983 – August 29, 2021
Kyle's sudden passing Sunday August 29, 2021 at PRHC has left his family and friends with a great loss. He will be remembered as a kind soul, a family man, a good friend, a funny guy, an avid fisherman, an NHL & NFL fan and a UPS front line worker for over 15 years. But anyone who knew him at all, knew that his greatest love was his eight-year-old son, Myles. Myles was Kyle's best buddy and Kyle made a point of calling him to say goodnight any night they were apart. Kyle was an instrumental father figure in the lives of Bailey and Hilary and he was always able to make his 'Sunshine' Addie smile as she was the apple of his eye.
Kyle was a Lakefield native, living in Peterborough at the time of his death. He graduated from Lakefield Secondary and attended Fleming College.
Loved and missed by his fiancé Marni Ellis. Also missed by his step-daughters Bailey Ellis and Hillary Ellis (Jayden Patterson) and step-granddaughter Addie English. His mother Susan (John), brother Nick (Kimmie), grandmother Brenda Neill and grandfather Larry Neill (Gloria) will always hold Kyle in their hearts as will his aunts Lori Neill (Scott), Kacey Nelson (Richard), great uncle Bryce Andrews (Molly), sister-in-law Roxanne Colby (Kip Willis), brothers-in-law, Chris Henthorne, John Henthorne (Michelle), cousins Luke & Becky, Thomas & Erika, niece, Selina Watkins (Brandon), nephew Brandon Peterson (Amanda), great nieces Norah Peterson & Bailey Watkins and great nephews Landon & Jaxson Peterson. Predeceased by his father Ron Kidd. Kyle's family also acknowledges the loss his passing is to Myles' mother, Erin Young.
Friends may call at THE HENDREN FUNERAL HOMES, LAKEFIELD CHAPEL, 66 Queen Street, Lakefield on Saturday September 4, 2021 from 6:00 – 9:00 PM. Due to Covid-19 restrictions, you are asked to reserve a time to attend the visitation by visiting www.hendrenfuneralhome.com. Masks must be worn while in attendance at the funeral home. A private family funeral service will be held on Sunday September 5, 2021 at 1:00 PM. You are invited to watch the funeral service by clicking on the link available on the memorial page for Kyle at www.hendrenfuneralhome.com Cremation to follow. Interment Lakefield Cemetery at a later date. As expressions of sympathy, memorial donations may be made to the Canadian Diabetes Association or to a Go Fund Me page, set up for Kyle's son Myles. You may send condolences or make donations by contacting the funeral home at www.hendrenfuneralhome.com or by calling 705-652-3355.
PLEASE CLICK HERE TO CONTRIBUTE TO THE 'GO FUND ME' SET UP FOR MYLES
Visitation
6:00 pm - 9:00 pm
Saturday, September 4, 2021
The Hendren Funeral Homes, Lakefield Chapel
66 Queen Street
Lakefield, Ontario, Canada
705-652-3355
Visitation
Private Funeral Service
1:00 pm - 2:00 pm
Sunday, September 5, 2021
The Hendren Funeral Homes, Lakefield Chapel
66 Queen Street
Lakefield, Ontario, Canada
705-652-3355
Watch Online by clicking link above.