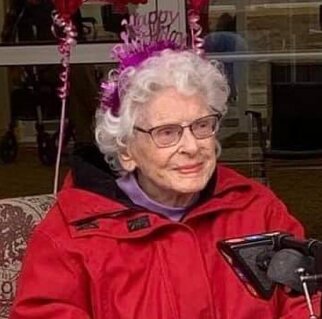 Obituary of Rosa Eileen Helliwell
In her 107th year on November 29, 2021, Rose Helliwell (nee Frost) passed away at Case Manor, after a 6 month bout of illness.
She was born in Toronto on October 20, 1915. She moved to Highland Creek when she was 8 years old and moved to Bobcaygeon in 1971. She lived her last 7 years at Kawartha Lakes Retirement Suites.
She led a long and interesting life. She will be missed by many as she touched so many lives. She was an active member in the Anglican Church, she painted, bowled (lawn and lane) and square danced. She was a lifetime member of the Horticultural Society and received the President's Award for her work in beautifying Bobcaygeon.
She was the beloved wife of the late Alan Helliwell. They had 4 children, Dave (Linda), Harvey (Ritha), Joyce, and Judy (Bruce), 13 grandchildren, Lee Anne (Lyle), Lisa (Ryan), Lois, Lori (Gary), Stacey, Mike (Barb), Christine (Lex), Sheena (Martin), Ninian (Karen), Angus (Lisa), Elaine (Andrew), Lisa, and Karen (Dave). She had 18 great grandchildren and 3 great, great grandchildren.
A funeral service will be held on Tuesday, December 7, 2021 at Christ Anglican Church, 43 Sherwood Street, Bobcaygeon at 11AM with Archdeacon Bill Gray officiating. Everyone must wear a face covering. In Lieu of flowers, donations may be made to Parkinson's Foundation or to Christ Church. Donations can be made by contacting THE HENDREN FUNERAL HOMES, 6 Helen Street, Bobcaygeon online at www.hendrenfuneralhome.com or by calling 705-738-3222.
Funeral Service
11:00 am - 12:00 pm
Tuesday, December 7, 2021
Christ Church Anglican
43 Sherwood Street
Bobcaygeon, Ontario, Canada