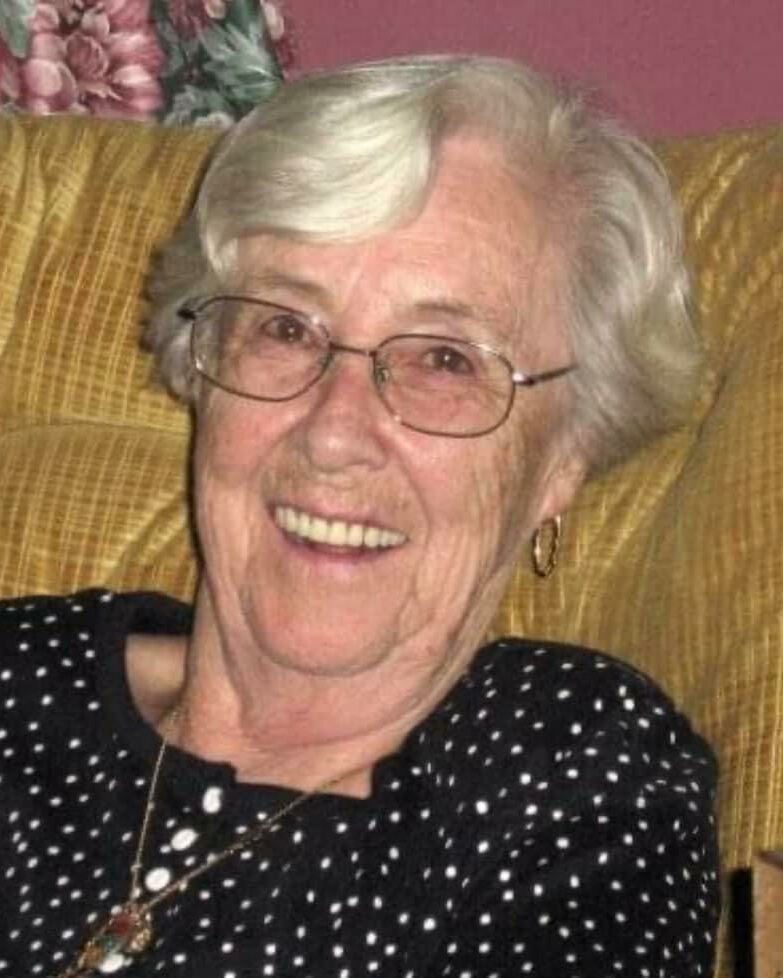 Obituary of Marjory Helen Lunau
MARJORY HELEN (CHALMERS) LUNAU
It is with profound sadness we announce the passing of Marjory (Marge) Lunau on September 30, 2022 at the age of 99 yrs. Marge was the loving wife of Ronald Douglas Lunau (deceased) for 58 years.
Marge is survived by her children Lynne (Bryan) Burgess, Penny Dickie (Ross deceased) and the late R. Douglas (Sylvia). Grandchildren Kelly, Todd, Laura, Tessa, Correen, Christopher; great-grandchildren, Alyssa, Brenndan, Hutton, Avery, Mason, twins Colton & Julia, Annabelle, Sophie, Jordan, Joey and Ava. Marge is also predeceased by her siblings William, Ralph, Grace, Lawrence and Louise.
Marge was raised in the Pomona Mills house on John Street in Thornhill. She attended Thornlea P.S. & Earl Haig High School. She had a quench for knowledge but unfortunately had to leave high school early for a job to help out the family.
In 1941, while working in the office at John Inglis, Toronto she applied for a job as a typist. She was hired and taken to an unknown location for training which turned out to be Camp X in Whitby. After training there, she was dispatched to New York City to work for the British Security Co-Ordination under Sir William Stephenson, where she teletyped coded messages to England and Brazil among other places.
Towards the end of the war, she returned to Camp X where she worked on Hydra and then travelled to Vancouver to visit a friend from the B.S.C. and found a job. In early 1946 she returned to Thornhill and later that year married Ron.
Marge loved travelling, reading mystery and spy stories, gardening, camping, hockey (she loved attending her grandson's and great grandson's hockey games). She was a competitive 5 pin bowler for many years. In 1962 she won the Ladies Eastern Canada Championship, the prize, a trip to Jamaica for her and Ron. She loved a good game of euchre, bid euchre and the poker group her & Ron belonged to. She was also known to join a poker game with her grandson and his friends. She had a great sense of humour and a wonderful laugh.
Of all the things she loved she loved her family the most and they all knew it.
Her family would like to extend their thanks and gratitude to Adelaide Place Retirement Residence for their watchful eye. She was their longest living resident having moved in shortly after the residence opened. We would also like to extend our thanks and gratitude to the nursing Staff at Ross Memorial Hospital, in emerg, and especially Alyssa, Amy and the students on the fourth floor for the respect and dignity they showed Mum. Even with all the shortages they stepped up to the plate.
Cremation has taken place and a private graveside service will take place. A celebration of life will be held at a later date. If desired, a donation to the CNIB or charity of choice is appreciated.
Arrangements entrusted to HENDREN FUNERAL HOMES- Monk Chapel, 6 Helen Street, Bobcaygeon. Donations and condolences may be made by contacting the funeral home online at www.hendrenfuneralhome.com or by calling 705-738-3222.