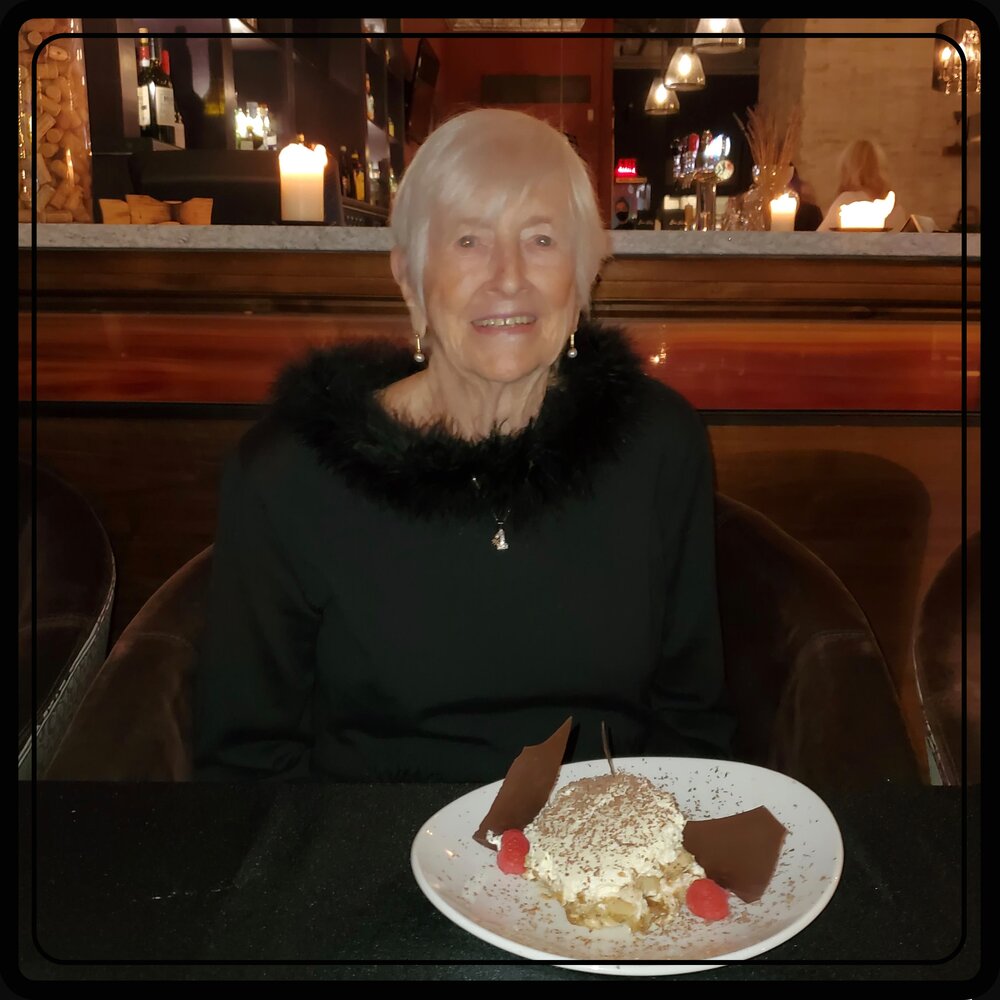 Obituary of Angela Isabelle Young
In loving memory of Angela "Granny" Young
In a final act of inimitable style, Angela Young - known to everyone simply as Granny - left her Earth-bound body and rode the wild winds of a powerful storm to the other side on 21 July, 2023.
Opening the gates and waiting to greet her, with all the subtlety of 'a bull in a china shop' (and the most hair-raising clap of thunder you've ever heard) was her beloved late husband, Eric Young.
That is the story of Granny's final moments, as witnessed by her two devoted surviving children Maureen Basnicki and Dan Young. There is little reason to doubt them: very few people have lived with as much dignity, style, and grace as Granny did. It is only natural that her exit was just as spectacular.
Granny was the youngest of her siblings, all of whom have passed before her. On Earth they would tease her that she 'came from China on a boat with a postage stamp stuck to her'. We can only guess what story they've concocted this time.
But knowing Granny, she's shrugging these shenanigans off with a laugh, too busy thinking about what to cook next. Most likely, it will be a meal for Randy Young, who predeceased Granny and has had to wait several decades to taste his mother's food again.
We can imagine Granny getting into her shiny, sporty, heavenly convertible to do her shopping, looking absolutely stunning (as usual). Flyer keenly examined, she will be heading to the one store where everything she needs is always on sale, and the tomatoes always look good for bruschetta.
She is also most likely driving well over the speed limit on a wide-open country road. Possibly whispering 'na nanna na na' under her breath while whizzing past a police officer, a cheeky sparkle in her eye.
And if it seems strange to consider Granny going about these mundane activities in a realm beyond our own, consider this: It would take more than double Granny's lifetime of 94 years to explain just how much she meant to all of us. Therefore, the attempt has been abandoned before it can even begin.
We cannot say Granny was taken from us too soon, but we can say that the void she has left behind feels far too big to fill. Her grandchildren Erica Basnicki, Paul Young and wife Krystal Young, and Brennan Basnicki have all had at least one grey hair each and will likely sprout a few more in her physical absence. Her great-grandson Liam Young is also trying to make sense of a world without Granny…. We all are.
But Granny did not like or want a fuss, and after that big tornado-and-thunder show it would seem prudent to respect her wishes and wrap this up with one final thought:
Granny liked to sit outside and watch the world go by. No doubt, she is doing the same thing now. Glass of wine in one hand, jazz music blasting, her foot tapping away. She said very little when she was people-watching, but days before she passed she did make one observation: "I've been lucky. I've been blessed."
As are all of us who have had the privilege to know and love Angela "Granny" Young.
Granny's family would also like to acknowledge, with gratitude, the kindness and care of her friends, neighbours, and "adopted family" who always kept a watchful eye, with special thanks to Sherry.
Granny loved flowers, but would also be thrilled with donations to the Institute for Advancements in Mental Health (https://www.iamentalhealth.ca/) to be made in her memory, as that was a cause very close to her heart.
Friends may send condolences or make donations by contacting the funeral home at www.hendrenfuneralhome.com or by calling 705-652-3355.
A Celebration of Granny's Life will take place on September 17th, 2023 from 1:00 PM-4:00 PM, at 3 Calberry Court in Lakefield. (Corner of Wingett Way and Calberry Court)
Should you like to attend, please R.S.V.P. to Dan or Maureen…with thanks.