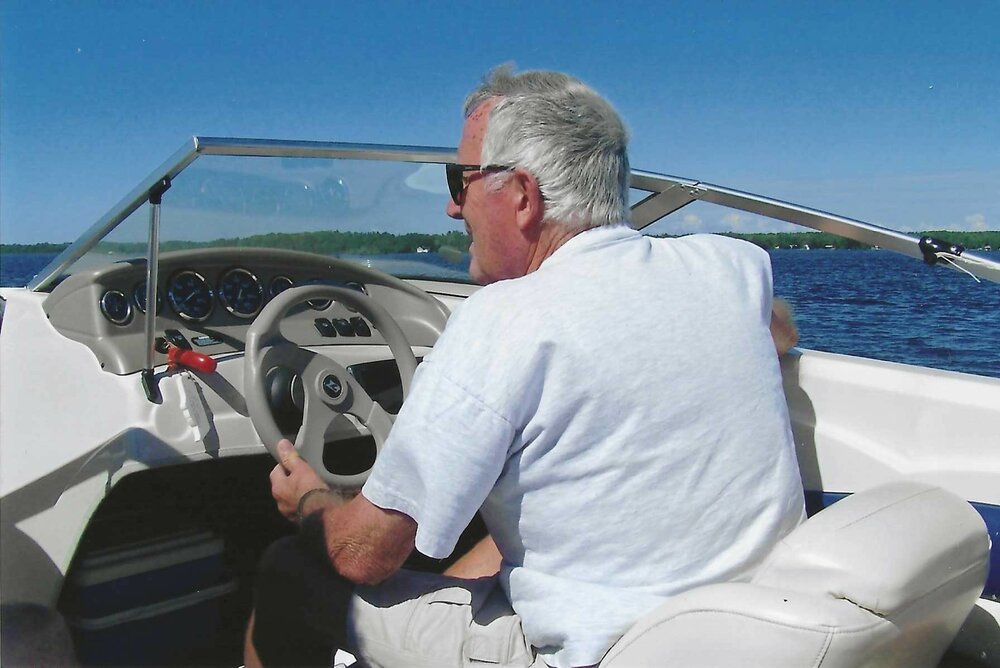 Obituary of Gerry Harnden
HARNDEN, Gerald 'Gerry'
We celebrate the life of Gerry Harnden, who passed away on Thursday September 7, 2023. A shining example of a life well lived! Gerry was a dignified man who approached every situation with calm, thoughtful intelligence. When Gerry was considering what he wanted emphasized about his life's journey, and was asked what he was most proud of, he wrote only one word: family.
That Gerry valued family above all else is clear in the close bonds of the one he built. He was at the heart of his beloved, boisterous family, who looked to him often for wisdom and strength, and enjoyed his mischievous, razor-sharp wit. Loving husband and world-travelling soulmate to Shirley for almost 65 years. Caring brother to Audrey (Bill), Jean, Doug, Shirley and brother-in-law to Barb. Patient and supportive dad to Shelly, Gerry and Cathy. Respected father-in-law to Mike, Ceri, and Jim. Proud grandpa to Mike, Kayla, Missy, Megan, Tammy, Tyler, Maddy, Josh, and their partners. He was deeply moved to receive the news of his first great-grandchild, due in 2024. His most fervent wish was that his grandchildren find happiness and fulfilment in their lives.
Born on a fruit farm in Niagara-on-the-Lake in 1935, Gerry never shied away from hard work, but always found a way to have a bit of fun with it. He began his career with Bell Canada in 1955 in construction, working in a variety of roles. To further his career with Bell Canada, he worked in Montreal, Toronto, London and Windsor. He also worked on a Bell contract in Saudi Arabia for four years, living in Abha and Jeddah. He ended his career in the Engineering Department as a Section Facilities Manager, with 37 years of service. After retirement in 1992, he continued to work on telecommunication contracts in the southwestern United States.
Gerry and Shirley travelled to an astounding 60 countries together, touching all seven continents! Gerry was always ready for adventure, whether riding elephants in Thailand, soaking up the sun and the history in Hawai'i, or watching wild lions in Kenya. Eventually settling down in 2001 on Pigeon Lake in Port 32 in Bobcaygeon, Gerry enjoyed boating and fishing with his grandkids and the peace and quiet of the waterfront, provided the geese or the crows didn't appear to make a mess. He knew how to make a fine drink and was a respected master on the barbecue.
Gerry was a truly special man. He lived a big life, and so his loss leaves a big hole, but it isn't a dark one, it's an endless well of wonderful memories. Gerry's legacy is one of love, gentleness, and firm values. He was a model to us all of how to live nobly and care for those around us. Words cannot express how deeply he will be missed.

Arrangements have been entrusted to THE HENDREN FUNERAL HOME – MONK CHAPEL. A celebration of life will be held on October 28th 2023 at the Port 32 Shore Spa in Bobcaygeon from 1:00 PM till 4:00 PM. In lieu of flowers, donations can be graciously directed to the palliative care unit at Ross Memorial Hospital in Lindsay, or to a cause close to your heart that reminds you of Gerry at www.hendrenfuneralhome.com or by calling at 705-738-3222.