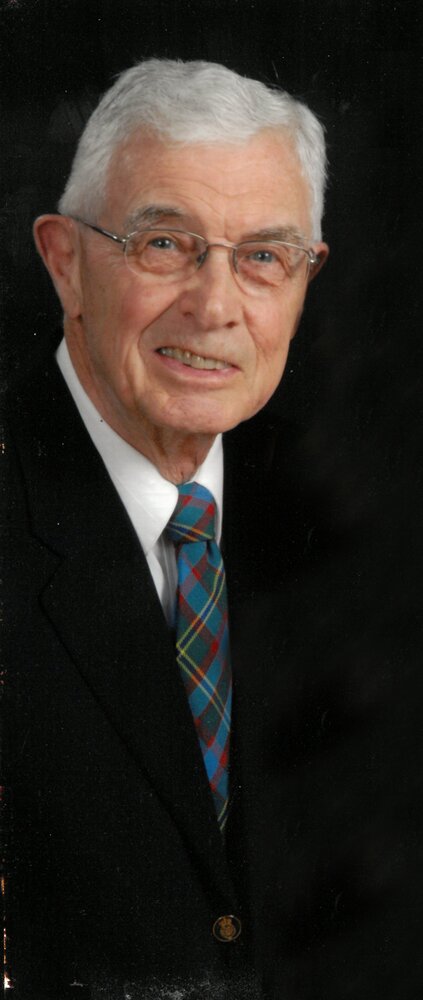 Obituary of Donald John Thornton
PLEASE CLICK HERE TO WATCH THE FUNERAL SERVICE FOR DON
Donald John Thornton
On September 19, 2023, just one week shy of his 91st birthday, Donald John Thornton passed away peacefully at Peterborough Regional Health Centre surrounded by family.
Don was born on September 26, 1932 near Woodstock, Ontario where he grew up on his family's dairy farm. As a teenager he ventured to Fredericton, New Brunswick to attend the University of New Brunswick. It is here that he met and married the love of his life, Audrey and graduated with a BSc in Civil Engineering. Don and Audrey moved back to Ontario where they raised their 5 children. Don worked in various engineering jobs in North Bay, Stratford and Toronto, then spent the majority of his career at the City of Brampton. Don and Audrey retired to Buckhorn in 1997, where they had cottaged for many years. Family was very important to him and he found great joy in spending time with his grandchildren. Don was a lover of nature, fishing, travel and card games. He was an avid curler and a devoted fan of the Pete's and his beloved Jays. Don was also a proud Rotarian, Mason, and a member of Wesley United Church.
Don leaves behind his beloved wife, Audrey; children, Deb (Brian), Bruce (Vivian), Patricia (Theo), Heather (Tom), and Karen (Dave); grandchildren, Shawn, Tiffany (Kyle), Brandon (Mackenzie), Derek (Courtney), Christine, Jeremy, Caelan, Brad (Zoe), Luke (Emily), Sarah and Ryan, and great grandchildren, Haddie and Grace. He is also survived by his brother, Robert (Jean) and several nieces and nephews. He is predeceased by his parents Jack and Verna.
The family would like to extend a heartfelt thank you to Reverend Rodney Smith-Merkley and Don's amazing caregivers at Royal Gardens and Peterborough Regional Health Centre for their wonderful care and compassion.
Arrangements have been entrusted to THE HENDREN FUNERAL HOME – LAKEFIELD CHAPEL. A Visitation will take place on September 29th at 9:30 AM till 11:00 AM with a live streamed service to begin at 11:00 AM till 12:00 PM at The Hendren Funeral Home – Lakefield Chapel. A time of fellowship and refreshment will follow the service. In lieu of flowers, donations can be made to The Canadian Cancer Society, B.E.L Rotary or Wesley United Church at www.hendrenfuneralhome.com or by calling 705-652-3355.