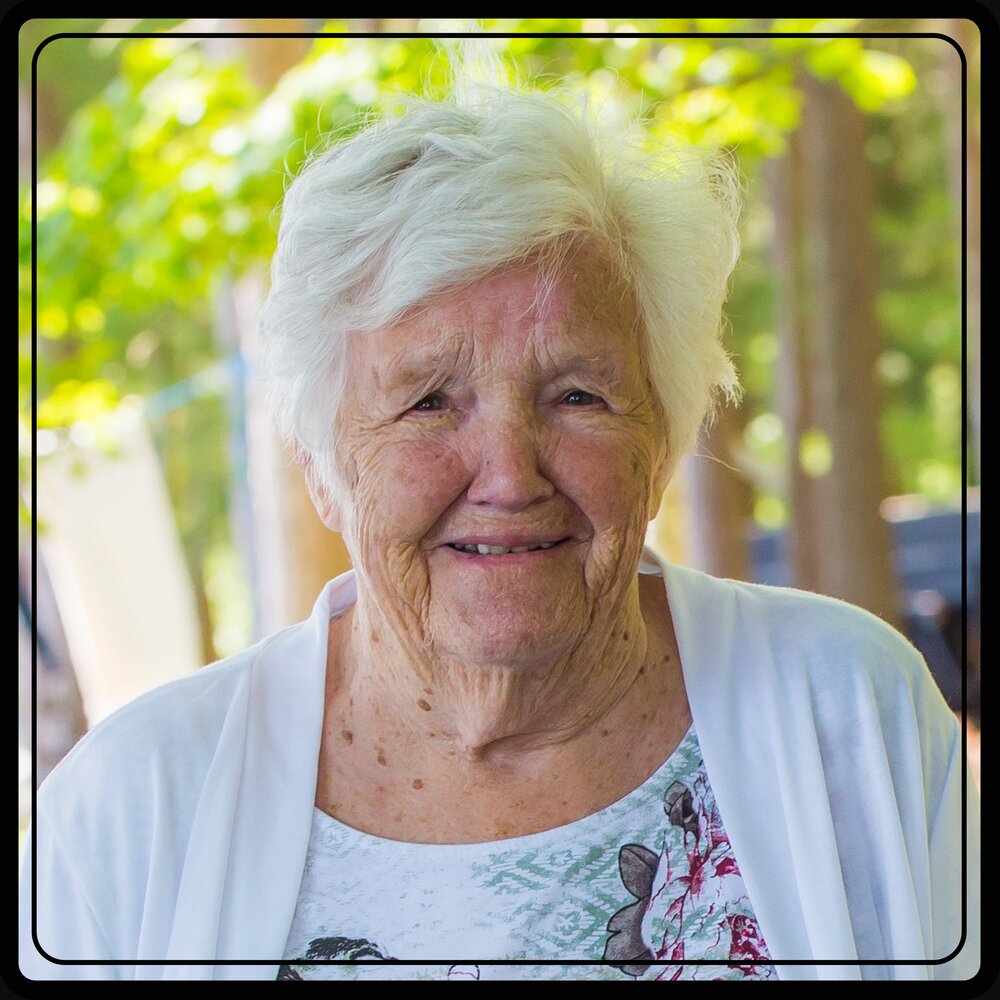 Obituary of Louise Jackson
In her 98th year and after a wonderfully vibrant life, Lillian (Louise) Jackson passed
peacefully away at home on Beaver Lake - with a million-dollar view - on November 7, 2023. Born on April 19, 1926 to Joseph William Fox and Lillian Fox (née Balgue), she spent her early years in Toronto, growing up with her two brothers. As a young adult, she enlisted in the Canadian Army to serve during World War II, stationed at the Halifax Citadel.
After the war, she crossed paths with the love of her life, John Jackson. Together, they built a life, with Lou choosing their house in Whitby and John selecting the lots on Beaver Lake for their family cottage. While John worked the roads, Louise held various jobs while raising their three sons, Michael, Gordon, and Grant.
In the 1980s, Lou retired from W. L. Smith printers and settled full-time at the cottage. Retirement, however, did not slow her down; she remained as active as ever. She immersed herself in crafting, quilting, swimming, card playing and her love for reading - particularly mystery novels.
Louise was a social butterfly and a firm believer in good citizenship. She dedicated her time to various boards and committees and played a pivotal role in establishing the Cavendish Public Library, the Cavendish Community Centre, and local Youth Group. Over the years, she volunteered her time at the library, various community events, and the Good Buy Room in Buckhorn. True to her bold and honourable nature, Louise joined the Galway Cavendish Fire Department, eventually serving as Captain. She was the first woman to hold this position locally, if not provincially.
A feisty, fun-loving, and competitive woman, Louise knew how to set boundaries, speak her mind, and was a formidable and animated card player.
Louise was predeceased by her parents, Joseph William Fox and Lillian Fox; and brothers, Joseph T. Fox and Robert (Bob) Fox. She is survived by her husband, John Jackson; sons, J. Michael, Gordon (Elaine) and Grant; granddaughters, Tina (Tim Lamont), Amanda (James McWilliam), Lisa and Laura; and great-grandchildren, Jacob, Leah, Sarah, Mason and Liam. She will be missed, too, by nephew, Paul Dick (Cheryl); grandniece, Lyndsay Jackson; grandnephew, Jordan Dick; and great-grandniece, Lillian Jackson. She is also survived by new family member, Christine.
Louise's life was a testament to her radiant spirit and her dedication to her family and community. Her legacy lives on in the hearts of those she touched and the impact she made in her community and family.
A visitation to celebrate Louise's life will be held on Saturday, November 18th at the Cavendish Community Centre, 32 Community Complex Dr, Trent Lakes, from 11:30 AM – 1:00 PM with service and reception to follow.
In lieu of flowers, memorial donations may be made to the Big Brothers Big Sisters Peterborough, Cavendish Youth Group or the Trent Lakes Outreach Center Food Bank as expressions of sympathy and may be made by contacting the funeral home at www.hendrenfuneralhome.com or by calling 705-652-3355.
The family also requests that all who wish to attend please bring a happy memory of Louise to be shared and added to a keepsake book.