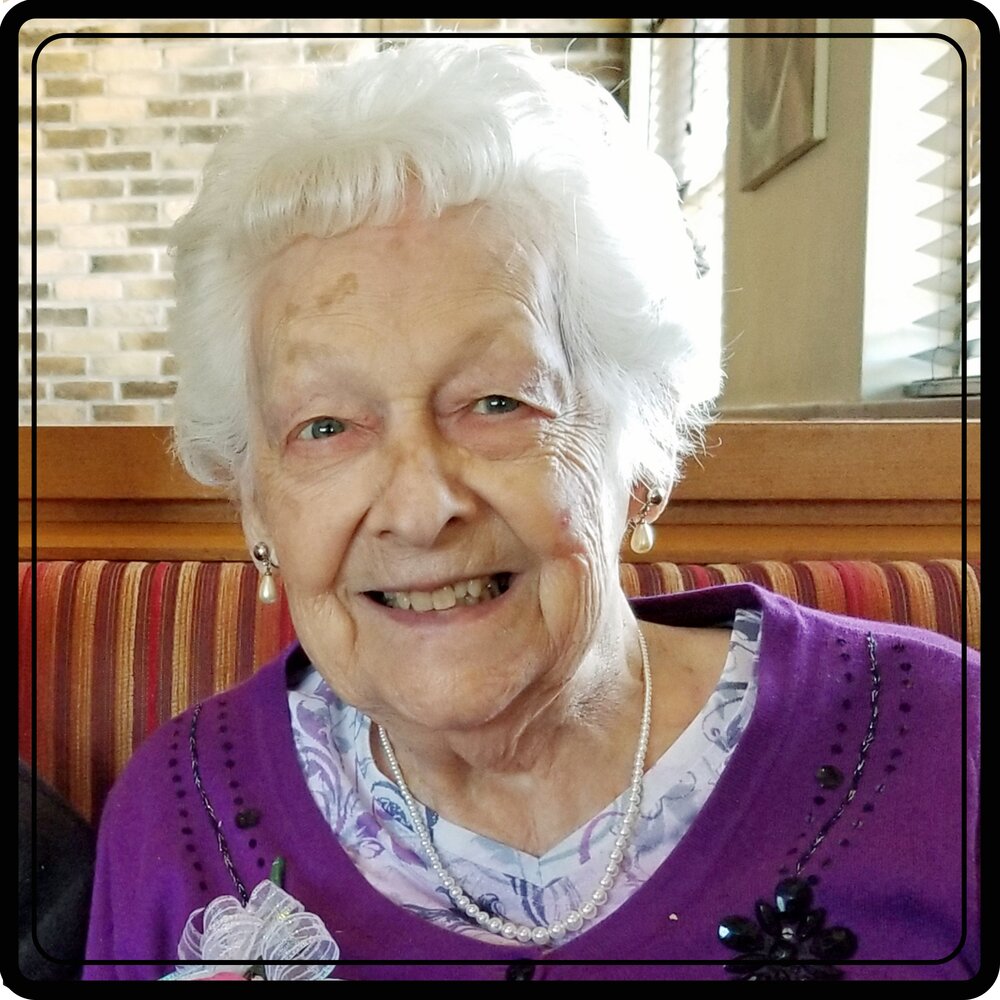 Share Your Memory of
Winnie
Obituary of Winnie Stewart
PLEASE CLICK HERE TO WATCH THE FUNERAL SERVICE FOR WINNIE
You are invited to watch the memorial video (below) dedicated in loving memory of Winnie Stewart.
It is with heavy hearts and great sadness that we announce the peaceful passing of Winnifred (Winnie) Stewart at Hospice Peterborough on September 1, 2021, in her 97th year. Winnie was a long-time Lakefield resident, community, and church member. Predeceased by her loving husband of 66 years, Archie, and her eldest daughter, Pamela Mckeen. Together, Winn and Archie established, owned, and operated Kawartha Hardware in Lakefield for 17 years. In the mid 1960's they purchased the land and developed a plan for the now, "Winfield Shores" subdivision. The "Win" in the named subdivision was in recognition of her long history with her beloved hometown of Lakefield. She will always be remembered as a loving wife, the greatest mom, and a loyal friend. She leaves behind her son, Bill (Rose) and daughter, Kathy (Gary), four grandchildren, and seven great grandchildren who came to know her and love her for her warmth, generosity, and happy spirit. Winnie was a special lady that put God, her family, and her friends ahead of herself. So, when you think about Winnie, think about life, think about love, think about happiness and the smiles, and the help and love she brought to all your lives. A huge thank you to the doctors and nurses working in emergency, the stroke ward, the palliative ward, and Hospice Peterborough. A very special thank you to Dr. Webster who guided Winnie's care with professionalism and knowledge, but especially with compassion and humanity.
Cremation has taken place. Arrangements entrusted to THE HENDREN FUNERAL HOMES – LAKEFIELD CHAPEL, Lakefield. A funeral service will be held on Thursday, September 16, 2021 at 1:00 PM. Due to COVID-19, you are invited to watch the funeral service from the comfort of your home by visiting www.hendrenfuneralhome.com and clicking on the link provided on Winnie's memorial page. In lieu of flowers, a donation to the Lakefield United Church or Hospice Peterborough would make Winnie very happy. Friends and family may share condolences and make donations by visiting the funeral home website or by calling 705.652.3355.